JAKEMY JM-6093 33 in 1 Screwdriver Tool Cell Phone Computer Repair Tool Multi-fuction Combination Screwdriver
---
This product is not available anymore. May be you can find similiar products in the same category (please, follow the link above).

We do not remove such products from the catalogue because customer reviews on them may contain useful information.
Description:
JAKEMY JM-6093

33

in 1 Screwdriver Tool Kit Cell Phone Computer Repair Tool Multi-fuction Combination Screwdriver
Brand: 
JAKEMY
Model: 
JM-6093
Features:
33-in-1 interchangeable precise manual tool set.
Professional portable hardware tools.
Light weight, compact design.
High hardness and good toughness.
PP&TPR material, non-slip handle.
It can be used to remove the small part of your
cellphone/computer/Mp4...
and to repair the device
without damaging it.  
Specifications:
 
Material: PP & TPR & CR-V steel
Hardness: H.R.C. 50~52°centigrade
 
Configuration table:
A quarter of the series 9 PCS socket head 
5 6 7 8 9 10 11 12 13 mm
 20 PCS screwdriver head (6.35 mm series)
One word: 5.0 6.0 7.0
Cross: 5.0 6.0 6.5
Pattern: T4 T5 T6 T10 T15 T20 T30
Allen: H4.0 H5.0 H6.0
Y: Y3
U: U6 U8
M subtypes: PZ3
Marbles by 25 mm length:
12cm extesion bar 
Tweezers: 118mm Bend  140mm Tip
18cm handle
Package includes:     
 
1 x 18cm handle
1 x 12cm extesion bar
1 x 11.8cm tweezers Bend
1 x 14cm tweezers Tip
9 x Socket
20 x Black screw driver

Detail pictures: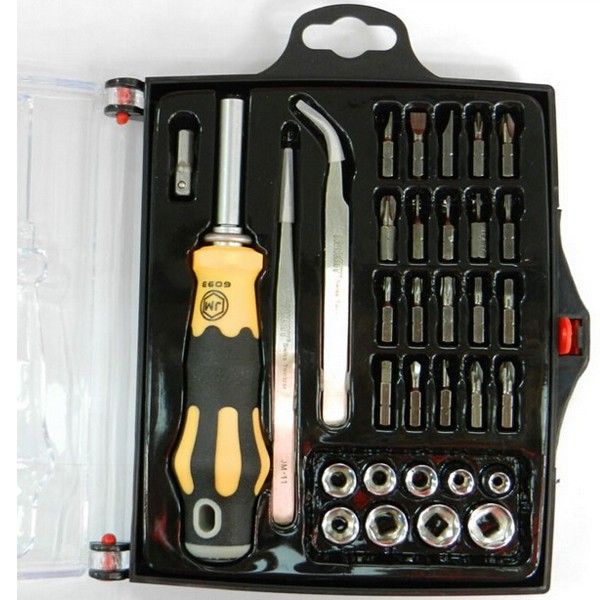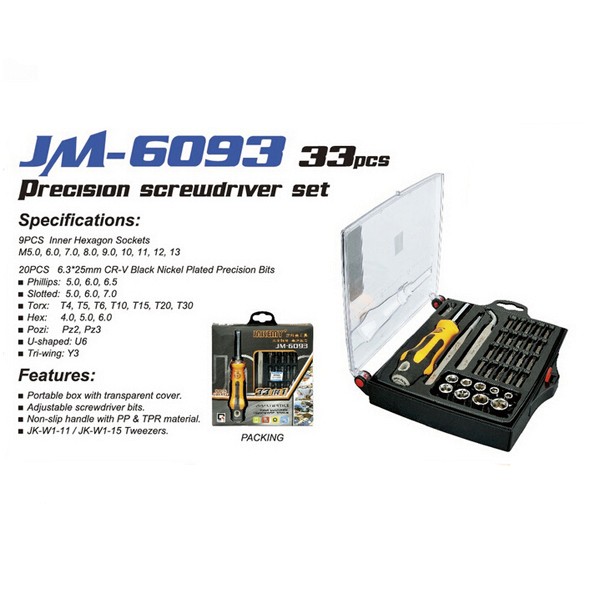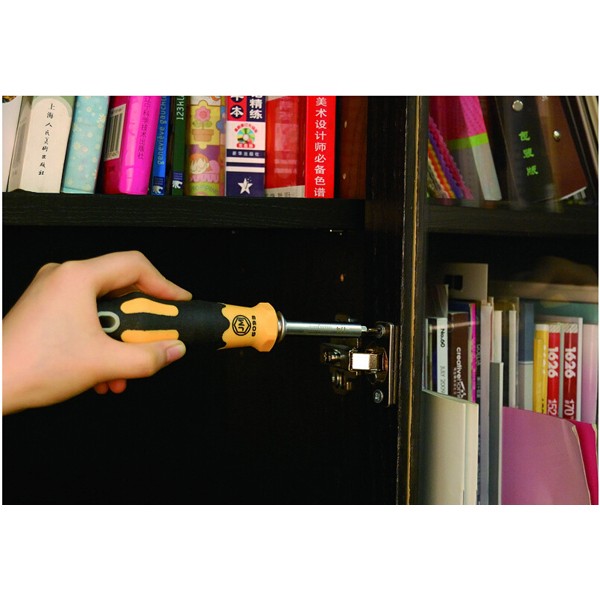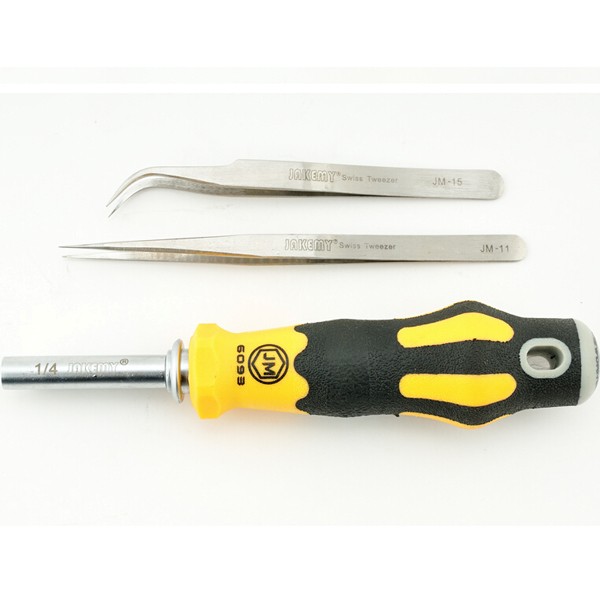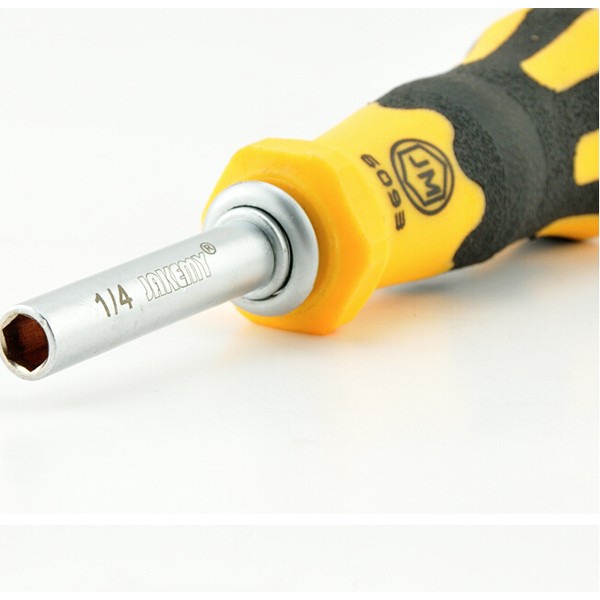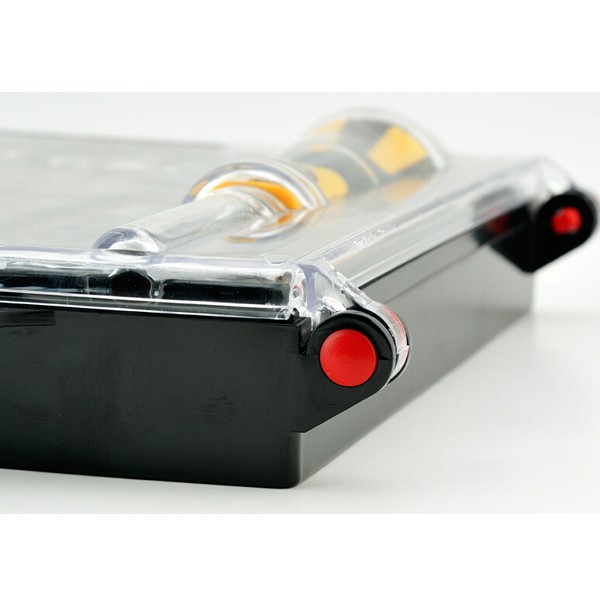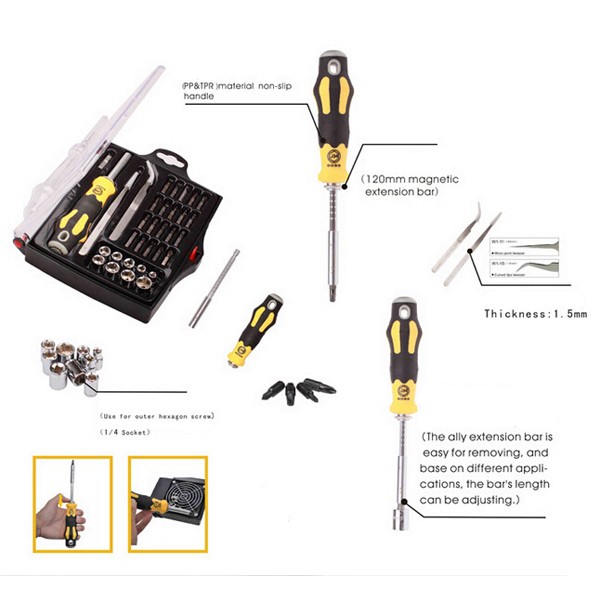 Sign In
/
Register
I'm a new customer
You need to sign up to communicate and make purchases.
The procedure is simple and will take just one minute.
Register
Thank you for registering!
Follow a few simple steps to place an order. Mouse over a picture for details.